How to Open Your Port 80 Behind a Firewall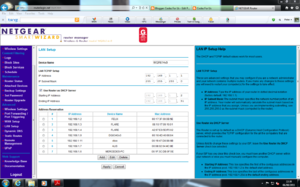 Firewall is a software that guards your internet connection to prevent attack to assets you have on your computers. Sometimes it is necessary to bypass it in a safe manner for certain purposes. This is called "Port Forwarding"
Steps
When you are connected to the Internet, you have a "router" as a pathway of Internet to your own computer(s). You also have a "hub" that feeds all of your computer(s) for your inner network of yours. For home usages these two come in a combined box called "router/hub" Log into your router/hub by typing the router address in your browser. Login address, user name and password of your router is written under the router box.
You'll find an "Advanced" option. Click on "LAN setup among the titles of this option. There is an "IP Address" column giving address of all pieces of device connected to your inner network hub.
Write down address of the device you want to open its port 80 for forwarding through the firewall, say, 192.168.1.3.
Click on "Port Forwarding/Port Triggering" Then please click on "Add Custom Service" button.
Fill the required fields as shown and click on "Apply" button.

Your Port Forwarding is completed.
Tips
You might need to know the IP of your "router/hub" on the Internet. This is a number given by your (broadband) Internet Service Provider (ISP)as identification of your location on their equipment. Usually it does not change unless you change your ISP or your location. To find it, on logging into your router, click on "Basic settings" and find it as shown.
Warnings
Do not fiddle too much with your router settings. It might be difficult to regain its default values.
Related wikiHows