How to Use Extended Keyboard in Windows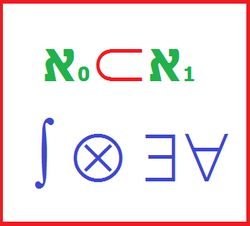 Frequently you like to use extended characters from a panoply of symbols available as fonts on the Microsoft Windows.
A couple of steps you are away from utilising it.
Steps
Open the application that you want to utilise extended characters on it.

Use short cut. After learning where the "Character Map" could be found you can use the Command Execution Field to run it as a Windows command. Just type "charmap" in it.

Look at the "Character Map." From the drop-down menu at the top, select your desired font that includes the necessary characters.

Assume you need Hebrew Alef, symbol of infinite cardinal in mathematics. Select "Aharoni" font that includes it.

Click on "Select" button. It pops up the selected character to the foreground and into the text-field. At the bottom it gives further information such as name of the character and its unicode value (here, 05D0).

Click on the "Copy" button to copy it to the clipboard. Then you can paste the character on any place, such as on an editor.

Create keyboard shortcut. For frequent usage of the map you need a keyboard shotcut to access the map immediately.

Click in the shortcut key text field. Type Ctr+Alt+ some desired key from the keyboard. In the picture Ctrl+Alt+Q is selected. But it depends to your selection.

If the combination has already a usage Windows prevent you to use it.
You always have to use Ctr+Alt. No other combination is accepted.

Click on "Apply" button and then click on "OK" button. Now when you need the "Character Map", just press "Ctr+Alt+Q" and the table pops out in front of you.
Related wikiHows